Wednesday, April 26, 2023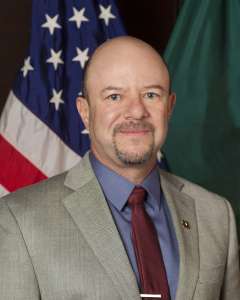 This month, we are pleased to feature Thomas (Tom) Torres, State Forester for the Arizona Department of Forestry and Fire Management.   
What was your first position in the field of forestry?
I started my forestry career with the US Forest Service as a Civil Engineer on the Kaibab National Forest in Northern Arizona working on transportation issues.
How long have you been in your role?
I have been in my role as AZ State Forester for only three months! Prior to that, I served 33 years with the US Forest Service in duty locations that included NM, CA, OR, WA, OR, and AZ. The last 10 years I worked on the Tonto National Forest in Phoenix, AZ as the Deputy Forest Supervisor.
What do you enjoy most about being a Council of Western State Foresters (CWSF) member?
I am new to the CWSF but I know I will thoroughly enjoy engaging with other professional and dedicated persons in the critical work related to fire and forest health.
What do you see to be the emerging issues in your state?
The most immediate issue (and challenge) is transforming our collective organizational capacity and operational ability to seize the historic opportunities we have right now to invest unprecedented amounts of federal and state funding to improve forest health, reduce wildfire risk and expand our urban forests. It is an immense implementation challenge for everyone involved that requires new and innovative approaches to accomplish our work at greater scale and at a faster pace.  
What is your favorite outdoor activity?
My favorite outdoor activity is exploring the awesome landscapes of Arizona. Whether I'm hiking, driving, or riding my bike, discovering new areas in the state never disappoints!