Meet a Forester, Thom Porter
Meet a Forester, Thom Porter
This month, we are pleased to feature Thom Porter, CAL FIRE Director and California State Forester.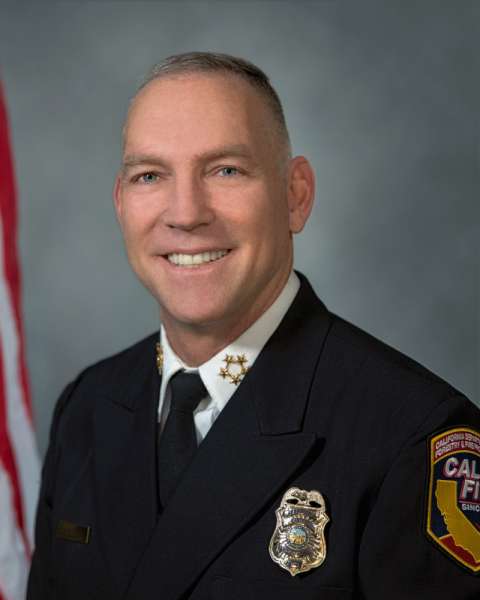 What was your first position in the field of forestry? 
After getting my forestry degree from Cal Berkeley, my forestry career was launched in the state of Washington as a field forester working for Weyerhaeuser and then continued with Menasha Corp - Land & Timber Division where I learned the craft of high production forest management in the Pacific Northwest.
I transferred back to California in the early 90s to pursue my Registered Professional Forester licensing and the practice of forestry in California. 
My career with CAL FIRE began in 1999 as a forester in the Southern Region.  I have had multiple forestry responsibilities, including vegetation management, pre-fire programs, urban and community forestry, and fuel management grant programs. Prior to being appointed Director, I worked my way through the ranks of Southern Region Forester, San Diego Unit Chief, Southern Region Chief, and Chief of Strategic Planning in Sacramento.
How long have you been in your role?  
I was appointed Director by Governor Gavin Newsom on January 8, 2019.  
What do you enjoy most about being a CWSF member?  
I most enjoy being a member of CWSF for the opportunity to collaborate with the forestry leaders of the nation on issues that mean so much to the people of the native lands and our nation, and to be recognized as a leader in our field knowing that the decisions we are making today will positively impact generations to come. 
What do you see to be the emerging issues in your state?  
To reposition the field of forestry as the leading profession to combat climate change, increase carbon sequestration, and promote total forest resilience.  
 What is your favorite outdoor activity? 
I enjoy surfing and spending time at the ocean.  The worst day in the water is better than the best day in the office.