Meet a Forester, Sonya Germann
Meet a Forester, Sonya Germann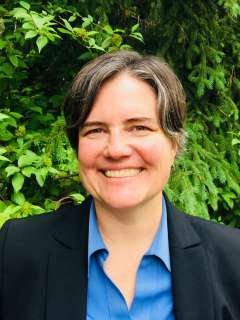 This month, we are pleased to feature Sonya Germann, State Forester with the Montana Department of Natural Resources and Conservation. We invite you to meet Sonya! 
What was your first position in the field of forestry? 
I'm the first one to say that I am not a forester – I came to forestry by way of wildlife biology, natural resource policy, and people management. My first position in forestry was working for the University of Montana to determine the density of mammals using 'restricted' forest roads compared to 'open' forest roads. I went on to become a seasonal wildlife technician for the Tongass National Forest where I had the unique opportunity to see a lot of the most wild and habitat rich forested environments. I then went onto the Department of Natural Resources and Conservation as a wildlife intern. It was through these positions, that I became drawn to forestry and the dynamic states of forests as they relate to wildlife species. Working in DNRC, I then became hooked on active forest management and the rest is history.
 
How long have you been in your role? 
I am closing in on month three as the Montana State Forester.
 
What do you enjoy most about being a CWSF member? 
Having been only to one Council meeting, I have to say what I enjoy the most is the people and the sheer amount of expertise and experience my peers bring to their positions and the group. I am very excited to be a part of regional and national discussions facing forestry and am energized to look for ways to help Montana continue to be a leader on these critical topics.
 
What do you see to be the emerging issues in your state? 
There are so many issues, but I'll focus on three.
 
Fire season is getting longer, fires are getting larger and more severe, and we are seeing more fires statewide. We are asking our people to do much more with no additional resources which ultimately taxes them on a year-round basis. We are finding that during our 'off-season' the demands on our staff are significantly increasing when it comes to training local government firefighters, our own personnel, and interagency cooperators; working with communities on fire awareness and prevention; and maintaining the interagency relationships that make fire protection work so well in Montana. In the last year, we trained approximately 4,700 fire personnel, more than any other year, while also assisting hundreds of landowners in preparing their homes and properties to be more resilient to fire. And we don't see the demands decreasing. In fact, we see the opposite. We want to be able to continue responding to the needs of our constituents, while not extending our workforce beyond their capacity. As an agency, that will be one of our main challenges.
 
We are also gearing up our efforts on Good Neighbor Authority (GNA). As of last week, we have all seven National Forests engaged in three to five year planning on GNA with our first two sales scheduled to be sold before the end of September. We, along with our USFS and community partners, are excited about the potential and promise GNA could bring to cross-boundary forest restoration needs throughout the state.
 
Lastly, both internally and with community partners, we are getting a lot of momentum behind the Cohesive Strategy. We are actively engaged in efforts with the USFS, our local government partners, and local elected officials to do comprehensive planning around the Cohesive Strategy on a community by community basis.
 
What is your favorite hobby? 
Since we have been building a house for over a year, it's hard to remember what I like to do. I like to do anything that readies me for winter like canning, winemaking, but I'd have to weigh in with going to the forest to cut firewood as my ultimate favorite. Especially when I do it on a cool fall morning.
What is your favorite tree? 
Western larch. I grew up in southwestern Montana and hardly explored anywhere off the ranch until I was 12. I remember taking a family drive up the Bitterroot and seeing the hills covered with golden conifers – I thought it was the most amazing thing I had ever seen. There's so much to appreciate about the Western Larch – it's fire resistance, it's commercial properties as one of the hardiest softwoods on the market, it's absolute beauty, and it also makes really excellent firewood for us Montanans.
What is your favorite outdoor activity? 
It's a toss up between high mountain lake hiking or canoeing stretches of Montana's wild rivers.
What would you do (for a career) if you weren't doing this? 
This is a hard one because I can't imagine doing anything else. But if I had to pick, I would likely want to give it a go at having a farm to table operation on my property outside of Missoula. I'd have to increase the goat herd, get a couple cows and pigs, and double my already enormous garden. I'm exhausted just thinking about it.