Wednesday, July 27, 2022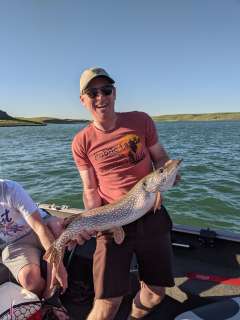 This month, we are pleased to feature Marcus Warnke, State Forester of the South Dakota Department of Agriculture & Natural Resources, Resource Conservation & Forestry Division.
What was your first position in the field of forestry? 
Seasonal GS-3 Timber Aide on the Black Hills National Forest, Mystic Ranger District. Worked subsequent seasons with the Black Hills, and Region 2 Forest Health Protection as a Hydrology Technician and Biological Science Technician respectively prior to graduating from the University of Montana.
How long have you been in your role? 
I have been with the Department for over 10 years, but only recently became State Forester on June 9, 2022.
 What do you enjoy most about being a Council of Western State Foresters (CWSF) member?  
The ability to network with other western states' forestry professionals that often face similar challenges and opportunities, but with different perspectives and solutions. The staff of CWSF also brings unique perspectives to policy issues and a wealth of knowledge when navigating the world of federal grants.
What do you see to be the emerging issues in your state? 
The continued sustainable harvest of ponderosa pine in the Black Hills is currently a contentious issue. The Forest Service, the State, industry, and the public all have the same goal of sustainable forest management on the Black Hills National Forest; the issue is how to accomplish that goal. The Black Hills is currently in the assessment phase of the next Forest Plan Revision, and there is some data recommending reduced harvest levels. The region lost one sawmill last year due to insufficient timber volume, and more recently has cut shifts at the two other large sawmills in the Hills. If we continue to lose capacity to manage the forest, we will end up with over-stocked stands that are susceptible to large-scale disturbance events, like the Jasper fire of 2002, and the recent mountain pine beetle epidemic. All stakeholders must remain engaged throughout the Forest Plan Revision so the best available science is used to ensure we can continue to manage the landscapes sustainably, and economically.
What is your favorite hobby? What would you do (for a career) if you weren't doing this?
My favorite hobby also happens to be what I would do for a career were I not a forester. I have been woodworking for over 12 years and have built a decent shop over that time. I dabble in log and rustic pine furniture, but also build large dining tables, bars, and anything that my friends and family decide they need. In recent years I have also taken courses in traditional timber-framing and have built small out-buildings, and am in the process of adding a large timber frame addition onto my home.