Wednesday, March 28, 2018
This month, we are pleased to feature Kacey KC, State Forester and Firewarden for the Nevada Division of Forestry. We invite you to meet Kacey!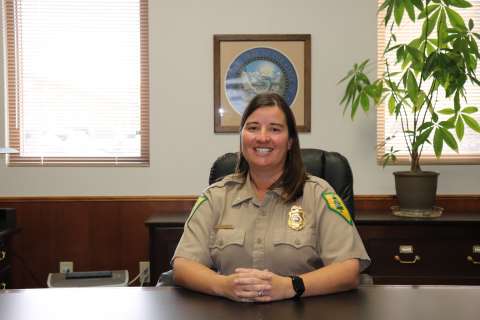 What was your first position in the field of forestry?
My first position in the field of forestry was as a community forestry volunteer for the Peace Corps. I spent a little over two years working for the District Forest Office in Ilam, Nepal, on the far eastern border near India. Upon return, my first paid position was a Seasonal Conservation Aide I with the Nevada Division of Forestry working at our plant materials program collecting native seed, mixing seed for rehabilitation projects, and growing seedlings/saplings for conservation purposes. This position was classified as the lowest pay grade in the State of Nevada but I was so happy to have a job in forestry, primarily to show my dad that I could in fact use my degree (long standing joke from a family who all work(ed) for the school district in some capacity).
How long have you been in your role?
I was officially announced State Forester in January 2018, after filling in as acting since May of 2017. Prior to that, I was the Deputy Administrator of Operations (Deputy State Forester). Overall, I have worked with the Nevada Division of Forestry for a little over 16 years.
What do you enjoy most about being a CWSF member?
What I enjoy most is the people. I have really enjoyed the open, family-like atmosphere with a group of professionals who share ideas, successes and failures, and experiences. I have been able to take what I have learned and implement the ideas here in Nevada, as well as sharing my successes and failures with others. What I love is the idea that this group of peers truly cares about the successes of the other members, not only professionally but personally as well. I have learned so much from this group and I hope someday to be able to give more than I take in the teaching department.
What do you see to be the emerging issues in your state?
Our biggest emerging issues currently are: staying relevant by keeping people interested in and excited about a career in forestry/natural resources; truly making a difference at the size and scale needed to protect Nevada's natural resources, habitats and plant species; creation of sustainable biomass utilization industries in Nevada; and safe, effective and efficient wildfire response across jurisdictional boundaries.
What is your favorite hobby?
Making old things new again.
What is your favorite tree?
Just so happens to be one of Nevada's state trees- the Bristlecone Pine.  Looks so wise, full of interesting stories, and has such beauty in life and in death.
What is your favorite outdoor activity?
Camping with my family and friends and all the fun that you can have without the modern conveniences where possible.
What would you do (for a career) if you weren't doing this?
I would want to work for National Parks or State Parks as an interpreter, trail maker, and all around outdoor fun champion.