Meet a Forester, Joe Tyler
Meet a Forester, Joe Tyler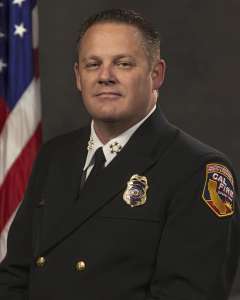 This month, we are pleased to feature Chief Joe Tyler, Director & Fire Chief of the California Department of Forestry and Fire Protection (CAL FIRE).  
We invite you to meet Chief Tyler! 
What was your first position in the field of forestry?
While I am not a forester, my work in the field of forestry began in 1991 as a CAL FIRE firefighter in the Shasta Trinity Unit in Northern California where I learned the importance of natural resource protection. 31 years later, I have the profound honor of leading 9,600 men and women who respond to more than 535,000 incidents each year.
How long have you been in your role?
I was appointed by Governor Newsom on March 4, 2022 as the 22nd CAL FIRE Director in the Department's 137-year history.
What do you enjoy most about being a Council of Western State Foresters (CWSF) member?
As a new member, the opportunity to network with a diverse group of leaders from across the country will be extremely valuable. Each member provides a unique perspective that makes this group stronger together. I look forward to discussing the successes and challenges our respective states are facing.
What do you see to be the emerging issues in your state?
The effects of climate change have resulted in drought-stricken vegetation, explosive fire behavior that have destroyed countless communities and a growing number of firefighters who are being challenged by sustained exposure to such events. While these challenges are not easily addressed, California is fortunate to have a Governor and legislature who are providing unprecedented funding in Forestry and Wildfire Resilience, firefighter behavior health and wellness support and countless other investments to address this long-term challenge.
What is your favorite hobby?
Spending time with my children.
What is your favorite tree?
Aspens located along the Sierra Crest for the beauty of their fall cover.
What is your favorite outdoor activity?
Fishing from the streams of Hat Creek located within the Lassen National Forest in Northern CA.
What would you do (for a career) if you weren't doing this?
I would be working in the Emergency Medical Service field.