Meet a Forester, Jeff Whitney
Meet a Forester, Jeff Whitney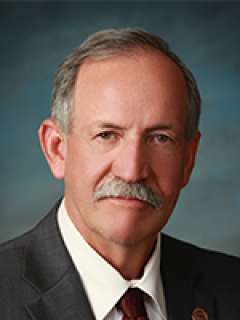 This month, we are pleased to feature Jeff Whitney, Arizona State Forester with the Arizona Department of Forestry and Fire Management and the 2017-2018 CWSF Incoming Chair. We invite you to meet Jeff!   
What was your first position in the field of forestry?
Summer/Seasonal Forestry Technician with the USDA Forest Service on the Sitgreaves National Forest while attending Northern Arizona University.
How long have you been in your role?
Three and one half years. I have been the Arizona State Forester since I was appointed by Governor Douglas A. Ducey in January of 2015.
What do you enjoy most about being a CWSF member?
The relationships with both the other members State Foresters and also with our phenomenal staff.
What do you see to be the emerging issues in your state?
Emerging issues in Arizona are related to expanded implementation of the Wildland Fire Cohesive Strategy (resilient landscapes/fire adapted communities, and a safe and effective response to wildfire) across all elevations and vegetation types of the state.  
Collaborative, cross-jurisdictional landscape management is key due to the mixed ownership across the state along with the fiscal challenges associate those activities. 
A major aspect of forest management is the "working landscape" philosophy that has characterized conservation of natural resources. This includes, but is not limited to, re-establishing a robust forest management supply chain to accelerate the pace and scale of our forest management activities. Creating sustainable, economically viable options to treat millions of acres of small diameter soft wood white pine will be key.    
What is your favorite tree? 
My favorite tree is Arizona Sycamore, (Platanus wrightii).