Meet a Forester, Jamie Barnes
Meet a Forester, Jamie Barnes
This month, we are pleased to feature Jamie Barnes, Director and State Forester of the Utah Division of Forestry, Fire and State Lands.
We invite you to meet Jamie!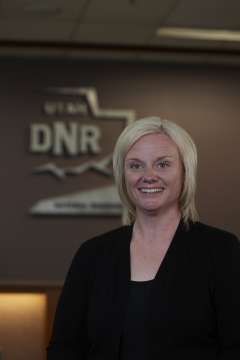 What was your first position in the field of forestry?
I have a somewhat diverse background when it comes to Natural Resources. I started with the Utah Division of Forestry, Fire and State Lands in 2011 as a paralegal, focusing on complex legal issues surrounding forestry, fire, and land management and also forging collaborative solutions to policy changes. In 2020, I began managing the sovereign lands program for the Division, until my appointment as Director/ State Forester in August 2021. I hold a master's of natural resource degree from the University of Idaho with an undergraduate degree in criminal justice from Weber State University.
How long have you been in your role? 
August 2021
What do you enjoy most about being a CWSF member?
To be part of a group that has the ability to collaborate on the challenging issues we are facing today such as, wildfire, forest sustainability, and impacts to water and forest health, and to collaborate on the policy challenges and solutions is exciting. Knowing that we have a network to go to that shares our same excitement and challenges is great. I look forward to working together in the future. 
What do you see to be the emerging issues in your state?
Utah like much of the west is facing longer, more intense fire seasons. We are seeing impacts to our forested areas rather its through ecosystems, urban sprawl, watersheds, or hazardous fuels build up. We have many challenges that are requiring us to use adaptive management to confront these issues head on. Like many states, we are facing issues with capacity and funding, trying to figure out how to do more with less, but strive to do our best.
What is your favorite outdoor activity? 
I enjoy the outdoors and it is my favorite place to be. Throughout the summer months, I spend most of my free time in the Utah mountains with my family enjoying the great landscape we have here. We enjoy camping, hunting, and water sports. In the winter, skiing is my favorite way to spend my free time.