Monday, April 13, 2020
This month, we are pleased to feature Craig Foss, Idaho State Forester.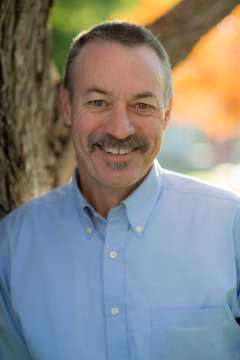 What was your first position in the field of forestry?
I was City Forester in my hometown of Devils Lake, North Dakota. I was in college. The city lost a large number of Siberian Elm one winter and hired me to remove trees from boulevards. That summer job lasted six seasons while I attended college. It grew into raising funds for planting projects, trimming all city boulevard trees, and led me back to school to pursue a degree, and a career, in forestry.
How long have you been in your role?
I was appointed State Forester in February 2020. In addition to being State Forester, I am also the Division Administrator for Forestry & Fire, a position I've held since 2016. I started working for the Idaho Department of Lands in 1995, when I was hired to lead their Urban Forestry program. In 2001, I became Chief for the Forestry Assistance Bureau. Prior to coming to Idaho, I was the Urban Forestry Coordinator with the North Dakota Forest Service for seven years.
What do you enjoy most about being a CWSF member?
I've been attending CWSF meetings consistently for the past 12 years. The issues we address as a Council are relevant to what each of our State Forestry agencies deal with – and I appreciate the process of discussing and advancing a consensus position on these regional and national issues. I also enjoy the opportunity to meet fellow State Foresters and the CWSF staff in person at the Spring and Fall meetings. It's an outstanding group of people.
What do you see to be the emerging issues in your state?
Two overarching themes: 
Maintaining a strong, progressive forest industry in Idaho. 
Implementation of the Shared Stewardship Initiative.
Maintaining a strong forest industry will help pay the way for the essential forest restoration and management work needed for healthy, resilient forests. The scale of declining forest health conditions on federal lands in Idaho, 75% of the federal lands are classified for some level of forest management, impacts all forest landowners and communities. The magnitude of the challenge requires us to conduct the right treatments on the most strategic landscapes, across all ownerships. We're all in this together, and Shared Stewardship is an excellent opportunity to work shoulder to shoulder with federal, state, and private landowners and Idaho's forest collaboratives toward improved conditions. 
What is your favorite hobby?
Going out for coffee with my wife, Jill.
What is your favorite tree? 
In North Dakota, it was always Bur Oak. In Idaho, it's Western White Pine.
What is your favorite outdoor activity?
Archery elk hunting in September, and mule deer hunting in November. I do both with my grown son, and we have a great time hunting, camping, and appreciating the great outdoors together. And if we're lucky enough to shoot anything, he's an incredible packer!
What would you do (for a career) if you weren't doing this? 
I'd either be an arborist or a counselor – probably both!