Meet a Forester, Christine Camacho Fejeran
Meet a Forester, Christine Camacho Fejeran
This month, we are pleased to feature Christine Camacho Fejeran, Forestry Division Chief, Forestry and Soil Resources Division, Guam Department of Agriculture. Christine is the first woman to officially serve in this position. On her diverse experiences that led her to the role, she notes, "Opportunity is everywhere, but you have to be willing to be uncomfortable. The process of overcoming fear, challenges, and uncertainty teaches you great lessons and forges the strongest partnerships."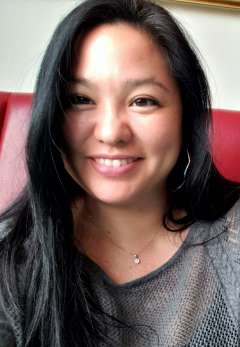 We invite you to meet Christine!
What was your first position in the field of forestry?
Forester II, Cooperative Fire Protection Program Manager
How long have you been in your role?
The promotion was effective August 27, 2020, but I had been Acting Chief since February 29, 2020. 
What do you enjoy most about being a member of the Pacific Islands Forestry Committee?
The connections, collaborations, and sharing of opportunities for engagement among our fellow Foresters and partners. The unifying voice from across the islands to the rest of the nation. There has always been a need for a platform to articulate and describe our unique ecosystems from land area coverage / scale, invasive species, disease, wildfires, development, management, messaging, cultural ties and values, etc. We may be smaller in land area, but the threats to our forest and natural resources are significant and should not be overlooked. The PIFC provides us with the unity and opportunity to be heard, and we truly appreciate the collaboration and partnerships from across the miles from both on islands and off.
What do you see to be the emerging issues in Guam?
Loss of old forest stands for the expansion of Department of Defense operations, increasing wildfire occurrences and size, and introduction of new invasive species to our island.
What is your favorite hobby?
I love to read science fiction, mysteries, and true crime novels.
What is your favorite tree?
My favorite tree is the Umumu (Pisonia grandis), which is typically one of the largest trees in the limestone forest. 
What is your favorite outdoor activity?
My favorite outdoor activity has always been hiking followed closely by snorkeling.
What would you do (for a career) if you weren't doing this?
I would be a law enforcement officer. I have always had a desire to protect our community and natural resources.