CAL FIRE Chief Ken Pimlott Testifies at Senate Committee Hearing
CAL FIRE Chief Ken Pimlott Testifies at Senate Committee Hearing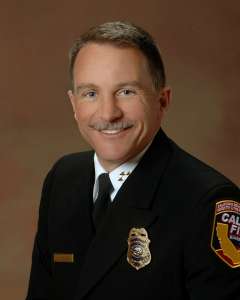 Yesterday, Chief Ken Pimlott, California State Forester and Director of the California Department of Forestry and Fire Protection (CAL FIRE), and member of the Council of Western State Foresters (CWSF) and the National Association of State Foresters (NASF), testified at the Senate Committee on Energy and Natural Resources hearing in Washington D.C. 
The purpose of the hearing was to receive testimony on the discussion draft titled the "Wildfire Budgeting, Response and Forest Management Act of 2016." Chief Pimlott was one of eight witnesses which included USDA Under Secretary, Natural Resources & Environment Robert Bonnie, Director of the Office of Wildland Fire for the Department of the Interior Bryan Rice, and Washington State Department of Natural Resources Commissioner of Public Lands Peter Goldmark.
Chief Pimlott testified on behalf of CAL FIRE and as a member of NASF. Chief Pimlott's comments focused on the upcoming California wildland fire season, the tree mortality emergency California is currently facing, and the work already underway such as the Statewide Tree Mortality Task Force. He addressed portions of the discussion draft, including the critical need for a comprehensive wildfire funding solution, that would be beneficial to the health and recovery of California's forests and to State Foresters nationally.
View the archived webcast: http://www.energy.senate.gov/public/index.cfm/2016/6/hearing-to-receive-testimony-on-the-discussion-draft-entitled-the-wildfire-budgeting-response-and-forest-management-act-of-2016
View Chief Pimlott's written testimony: http://www.energy.senate.gov/public/index.cfm/files/serve?File_id=F6527902-C06A-4FB8-934E-08982347CE02
View the Wildfire Budgeting, Response, and Forest Management Act of 2016: http://www.energy.senate.gov/public/index.cfm/files/serve?File_id=1C7CC535-A986-4B28-A56C-9F6B58BEBECB