Wednesday, March 22, 2023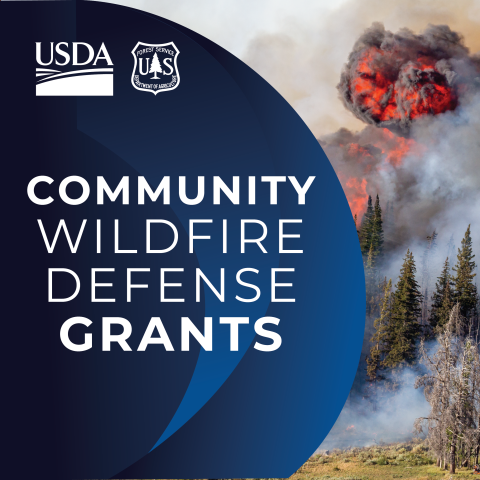 The Community Wildfire Defense Grant (CWDG) program was created as part of the Bipartisan Infrastructure Law passed in November of 2021. It provides $1 billion over five years for grants to at-risk communities to develop or revise a Community Wildfire Protection Plan (CWPP) and to carry out projects described in a CWPP that is less than 10 years old. CWDG is aimed at focusing efforts on the areas of greatest need through the three priority elements outlined in the legislation, including at-risk communities identified as having high or very high wildfire hazard potential, are low-income, and have been impacted by severe disaster affecting the wildfire risk.
This program helps communities in the wildland urban interface (WUI) implement the three goals of the National Cohesive Wildland Fire Management Strategy (Cohesive Strategy):
Restore and Maintain Landscapes: Landscapes across all jurisdictions are resilient to fire-related disturbances, in accordance with management objectives.
Create Fire Adapted Communities: Human populations and infrastructure can withstand a wildfire without loss of life and property.
Improve Wildfire Response: All jurisdictions participate in making and implementing safe, effective, efficient risk-based wildfire management decisions.
State, federal, and tribal representatives have worked together throughout the development of this program. Information regarding the first round of funding was posted to grants.gov and the USDA Forest Service (Forest Service) CWDG webpage after the initial opportunity announcement in July 2022.
Throughout the process, western state and federal program managers facilitating the administration of CWDG met weekly to touch base with one another, ask questions, and share information and resources to better support applicants. The close coordination between program managers conveys the strong partnership and commitment to the success of this program. 
"Over 300 applications were submitted in the western region portraying the critical importance of what CWDG is aiming to achieve - community protection and preparedness," stated Halie Miyazawa, Council of Western State Foresters (CWSF) Competitive Grants Manager. "Subsequent application periods will build upon the learning from this initial round and explore additional ways to expand technical assistance. It's an incredible opportunity for partners to work together to achieve positive outcomes in the face of this wildfire crisis."
On March 20, 2023, Agriculture Secretary Tom Vilsack announced the list of awarded proposals for the fiscal year 2022 CWDG program. 100 projects are being funded a total of $197 million across 22 states and seven tribes in the United States. This competitive grant program received 417 applications totaling $525 million in requested funding during the first year. This is a clear demonstration of the existing demand for continued investments supporting implementation of the Cohesive Strategy in WUI communities.
Awarded projects by-the-numbers:
100% of the selected projects meet two out of the three priority elements
84% of the selected projects meet all three priority elements
83 of the 100 selected projects are located in CWSF member states
64% of the projects are implementation projects described in a CWPP
36% of the projects are developing or revising a CWPP
Additional details on the initial round of projects can be found on the CWDG funded proposals page and fact sheet. Please see the press release from our partners at the National Association of State Foresters.
New applicants and applicants that were not awarded in this round of competitive funding are encouraged to look to the scorer feedback and re-apply for future CWDG funding opportunities. More information on scorer feedback and future application cycles will be provided on the CWSF CWDG website as soon as that information becomes available. 
Please contact Halie Miyazawa, CWSF Competitive Grants Manager, with any questions.